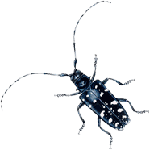 Do to the threat of the Asian Longhorn Beetle no firewood will be allowed into the camping area.
We will have firewood for sale on-site.
The Asian Longhorn Beetle is a real threat to the production of maple syrup and to hardwood trees in general. The Boogie family are 5th generation Maple Syrup Producers and are concerned about the impact this beetle would have. The beetle has been found in New York, Massachusetts and Connecticut.
We appreciate your understanding of this very real danger and respectfully request that you please DO NOT bring in any firewood.
For more information about the Asian Longhorn Beetle Please Visit:
http://www.na.fs.fed.us/fhp/alb/
http://www.uvm.edu/albeetle/
http://en.wikipedia.org/wiki/Anoplophora_glabripennis